This coming weekend, July 30th, you have the opportunity to help out at an annual butterfly count in the Dismal Swamp. On Saturday, August 6th, Teta Kain will lead a butterfly count at Chippokes, where the butterflies and dragonflies from this slide show were taken. For more information on joining one of these upcoming butterfly counts, please check the calendar to the right of this post.

|
|
How fun is a butterfly count? Adrienne and Gary went to the Eastern Shore butterfly count last week.
Gary and I went on the ESVA count today, despite the temperature we saw 27 species which was a pretty good count. We went with Teta, Ruth, and Maryella and traveled the eastern side of Route 13. Brian Taber led a group of 6 on the Kiptopeke side, and there were 2 other small groups.

The highlight for me was seeing the Palamedes swallowtail with the body striped like the wings. We saw a group of Checkered skippers flying around behind a warehouse. Lots of Eastern Black, Spicebush, and Red-spotted purple swallowtails. A Monarch, Viceroy, Hackberry Emperor, Snout, and more.

One very cool bird sighting…. More than white ibis and juveniles sitting in trees over an inlet with egrets and herons.
Kathi went on a butterfly walk in West Virginia last month.
This past June, we went "Butterflying" and "Dragonflying" in West Virginia as part of the Canaan Valley Birdfest (go figure).  We had a butterfly expert AND a dragonfly expert with us, and went out of a lovely hillside meadow, with about half a dozen nets.  After a brief instruction on how to use them, we took turns capturing anything that we could, and running back to the experts, like breathless second-graders, to see what we had.

The dragonfly expert said, "Oh! A clubtail!  You know how birders feel about warblers?  Well, dragonfly people feel that way about clubtails!"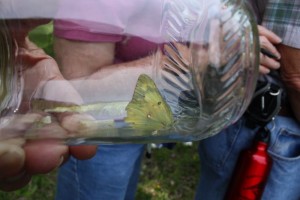 Here's a shot of all of us: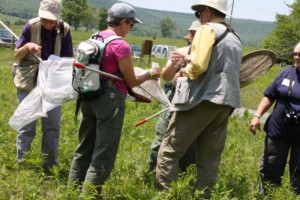 I swear, I haven't had that much fun since, well, second grade!

And a bonus shot from Dolly Sods (same trip) of a bunch of butterflies crowding together in an old firepit.  Think the ashes had some trace minerals?